Thursday, November 19, 2020, 7pm via Zoom – "What the elections will mean for Maryland women and their families."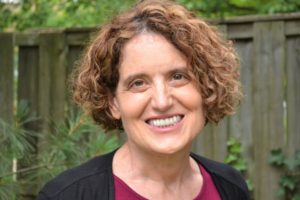 Join the members of the Baltimore Branch, AAUW, and their guests as they gather after the election to hear Dr. Catherine Hill speak on "What the elections will mean for Maryland women and their families." As always, our meetings are open to the public.
Catherine Hill, Ph.D., is the Executive Director of the Women's Legislative Caucus, a bipartisan organization of 75 legislators dedicated to improving women and their families' lives through legislation. Founded in 1972, it is the oldest of its kind in the nation. The Caucus is a leader in the Maryland General Assembly on gender-based violence, women's economic security, and educational equity.
Previously, Dr. Hill was the Vice President for Research at the American Association of University Women (AAUW), a Study Director at the Institute for Women's Policy Research (IWPR), and an Assistant Professor at the University of Virginia. She has published extensively on women's issues, including the gender pay gap, women's leadership, and sexual harassment; her work has been widely cited in the media, including The Washington Post, Forbes, and National Public Radio (NPR). Dr. Hill teaches "Gender, Politics, and the Law" at George Washington University in the Women's Gender and Sexuality Studies Department. She has a BA in anthropology from Cornell University and a Ph.D. in Policy Development, Rutgers University.
Join Zoom Meeting https://us02web.zoom.us/j/89149684836?pwd=STgxdzgzcVJsemhud2EwdUtIUW1zUT09
Meeting ID: 891 4968 4836; Passcode: 011221
Dial by phone  (no video) +1 301 715 8592 (Germantown)